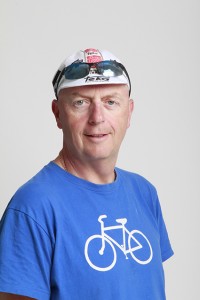 Mike Finch is the founder and the brains behind ITGuyOnABike.
I started my career working in the printing industry. I worked in pre-press for a number of companies but as the industry became more computerised, I became less involved in the typography and more involved in the technology.
Unusually, this led to me working with PCs as well as Macs and eventually with servers, hardware, networking, telephones, mobile platforms, and everything related to Infrastructure.
I am a Microsoft Certified Systems Engineer with over 25 years of experience working in technology, most recently for a London-based marketing services agency with international offices.
I started riding my bike when I was young and I just never stopped. Obviously, there is nothing I like more than getting out in the countryside and punishing myself on my bike! – but I also like 1970s Soul, Funk, R'n'B and Jazz Funk (I have an embarrassingly large vinyl record collection), football, swimming and inventive cookery, keeping my family fed on delicious healthy food!
Photo by Dawn O'Connor (www.dawnoconnorphotography.co.uk).
| | | |
| --- | --- | --- |
| Like ITGOAB on Facebook | Follow ITGOAB on Twitter | Connect on LinkedIn |