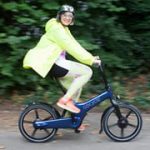 Convert your push bike into an eBike for just £225? Does that sound good? – or is it cheating? – or is it motor doping?! It's certainly cheaper than spending a minimum of £1k on a purpose built, dedicated eBike. Seems like you take the motor, that is attached to your front wheel on and off when you want to by exchanging the wheel for a non-motorised wheel.
So this has great flexibility, you can swap it between bikes that have the same wheelsize and it's considerably cheaper than a dedicated eBike. What's not to like?
Perfect for when you have sore knees or you just simply can't get up those steep hills any more. I had a go on an eBike recently and it is super, super fun. I'm not sure dedicated eBike shops are going to be terribly happy though – but the world moves on.