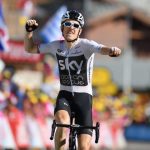 Geraint Thomas was crowned BBC Sports Personality of the Year 2018 last weekend. The cycling vote got out again!
Well done the G Man, I can't think of a more deserving winner. However, the reaction to it has been a little tepid comparing it to previous cycling winners. When Chris Hoy won, no other cyclist had won since Tom Simpson in 1965, it was bedlam in the cycling world. There was similar euphoria when Mark Cavendish won too.
It feels like it's all a bit so so. Is it that people are a little tired of this kind of event? I thought the Medway Sports Awards was better! There was a lot of cheesy over the top, cringe-worthy pomp during the evening. The frothy flannel for the England football team was embarrasing. You'd have though they'd won the world cup. Even that nice Mr Southgate looked a bit embarrased.
Well done to the G Man – I, for one, think you are fabulous.